An hour's drive from vibrant Brisbane, you'll find Glass House Mountains National Park, a stunning nature reserve and a great place to hike and bike. This green area is known for its beautiful high hills, such as Mount Beerwah and Mount Tibrogargan, which can be seen glittering in the sun from afar. This special area near Brisbane lends itself perfectly to a short or long hike and lets you forget the hustle and bustle of the city for a while. Martin and I visited the Glass House Mountains during our Brisbane city break. Read our experiences and tips now.
About Glass House Mountains
The Glass House Mountains is an area of 73.1 km², in which a cluster of thirteen hills rise. The highest hill is Mount Beerwah, 556 metres above sea level. The most famous hill is Mount Tibrogargan, which looks like a face looking east towards the ocean. There are several trails in the area, each varying in distance and difficulty.
How to get there?
You can get to the Glass Mountains in two ways. One is to arrange a rental car and drive from Brisbane in just an hour. But it's also pretty easy to go by public transport. Like us, hop on a train at Central Station towards Nambour Station and get off at Beerburrum Station or one station further at Glasshouse Mountains. We got off at Beerburrum and this ride takes one hour, and during this ride you already see a lot of the surroundings. From Beerburrum Station, it is a 10-minute walk towards the starting point of the trails.
Sit & Chill Bakery Cafe
During our stay in Queensland, we experienced changeable weather. This meant sunshine and occasional showers. The temperature was lovely, around 22 degrees. Great hiking weather! Although it initially seemed to be dry, we were suddenly surprised by a downpour as we left the station.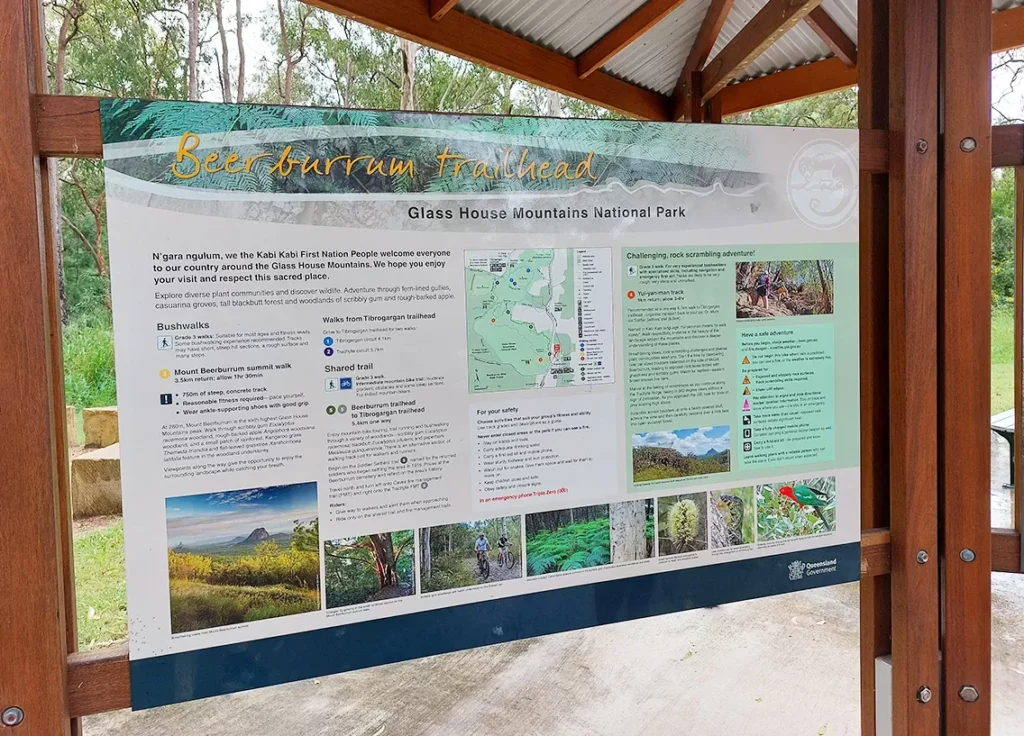 Fortunately, there was a nice café (bakery) nearby where we could take shelter. While enjoying a nice coffee and cake, we enjoyed Queensland's hospitality and saw that it briefly broke loose outside during that downpour. But, after rain comes sunshine. Because after 10 minutes, the sun came through again and we could start our hiking adventure.
Trails
There are several trails to be found in Glass House Mountains National Park. We started at track number 5 and later also walked track 1 and 2 (see image below).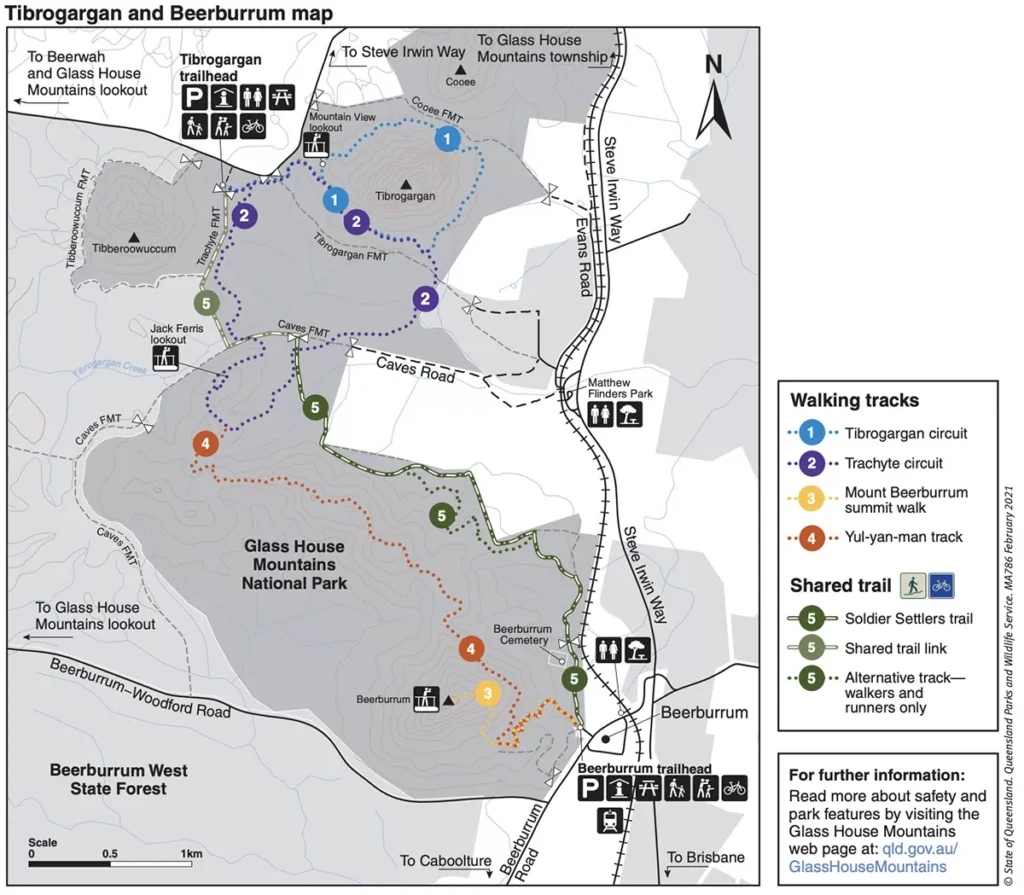 We walked about 18 km in total (there and back). Like us, you can do a normal hike, but it is also possible to really go on an adventure and climb one of the hills. Here you have to expect very steep, and in rain, slippery paths. It is wise to do this only in dry weather. Read more about the trails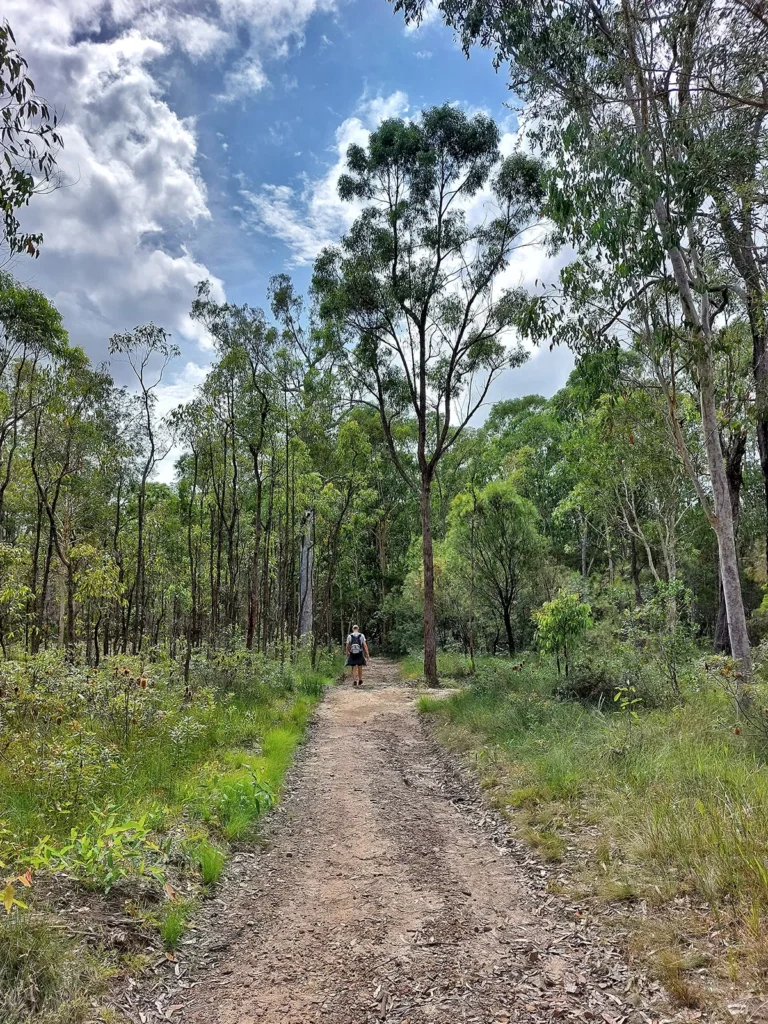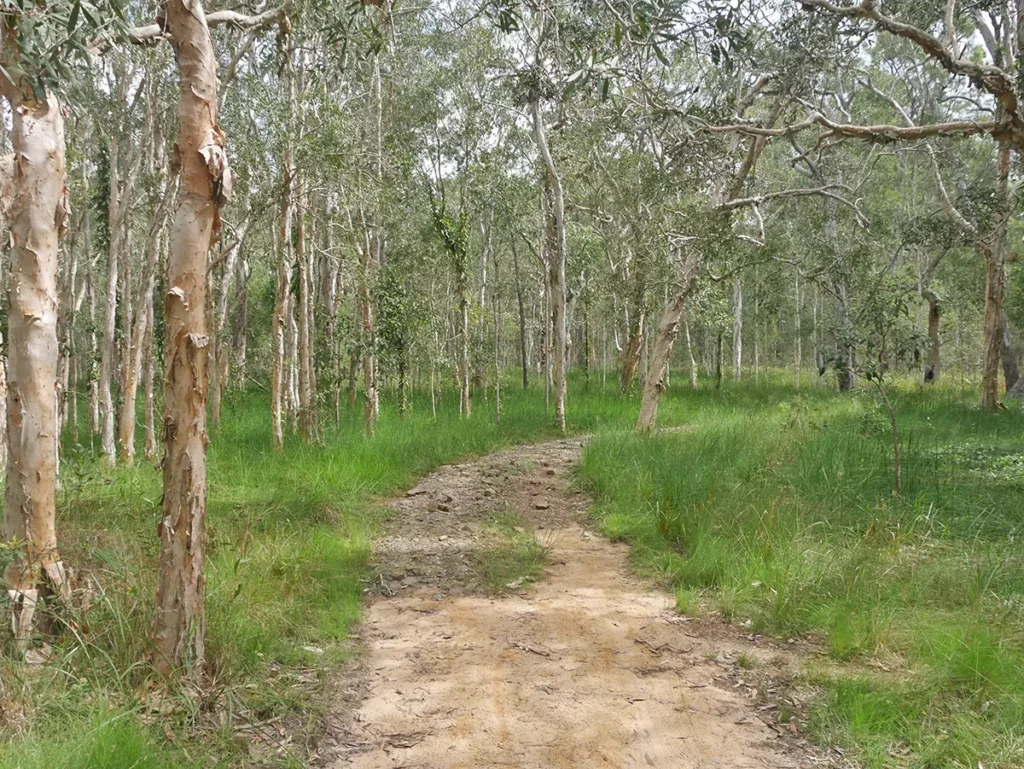 Track number 5 is a 'shared trail'. That means hikers, cyclists and runners use the trail together. If you stick to track 5, you can do the Soldier Settlers trail as we did, where you get a more narrow path where you walk even more through nature.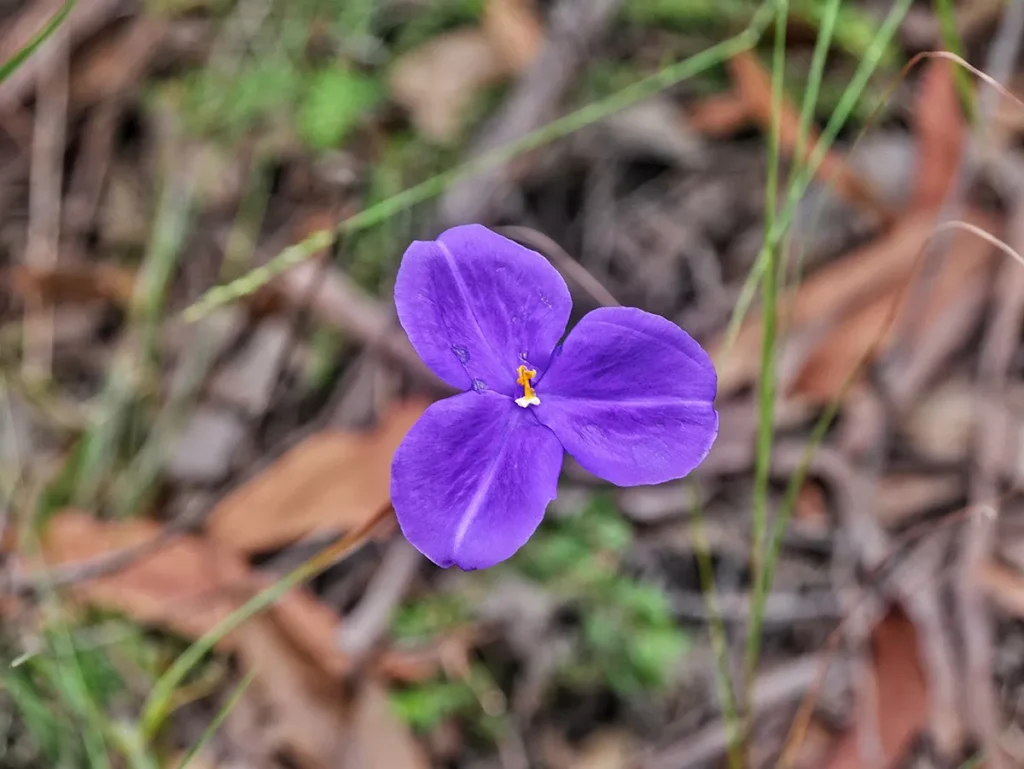 Nature is diverse, so you can see all kinds of different trees and plants, and you can also see flowering plants. Birds were there too, we could hear them whistling high up in the trees. Unfortunately, they didn't come really close, maybe it wasn't the right time of day.
At different corners, you have beautiful vantage points (lookouts) where you have a great view of the hills. So our goal was to visit a few of these lookouts.
While we had already covered kilometres, tourists who had parked the car closer to the lookouts also arrived. For us, the first lookout point was at Mountain View lookout, where we had a breathtaking view of Mount Beerwah & Mount Coonowrin. Here we could also immediately recover from our hike. Because it was slightly cloudy this day, the landscape looked even more magical.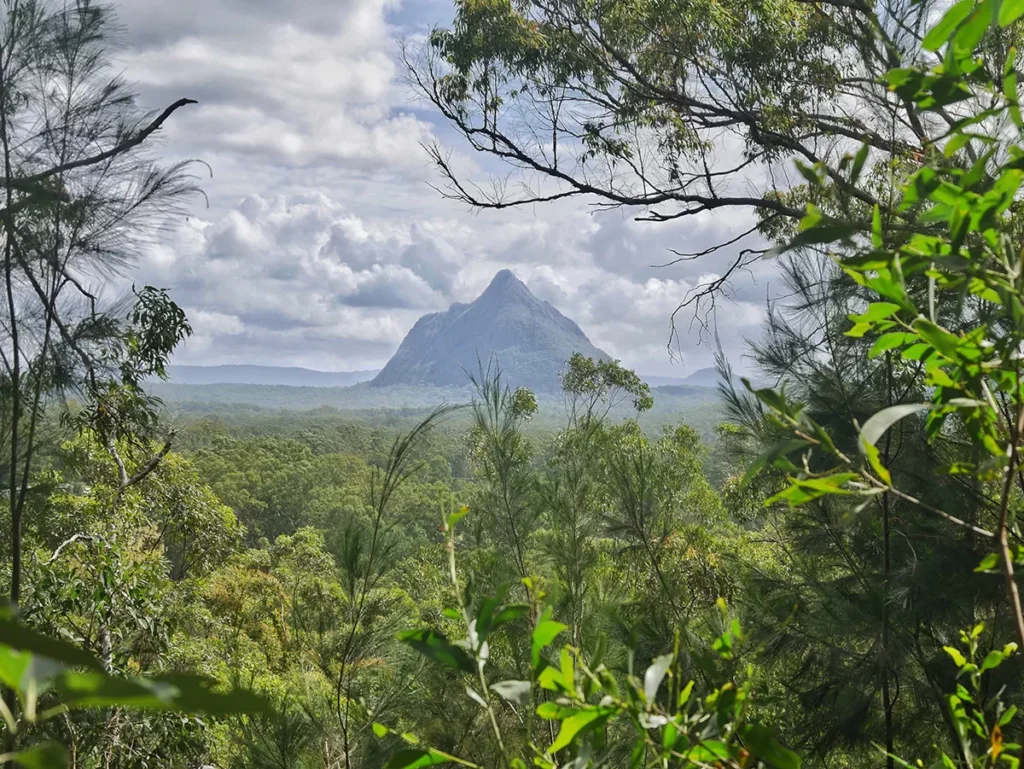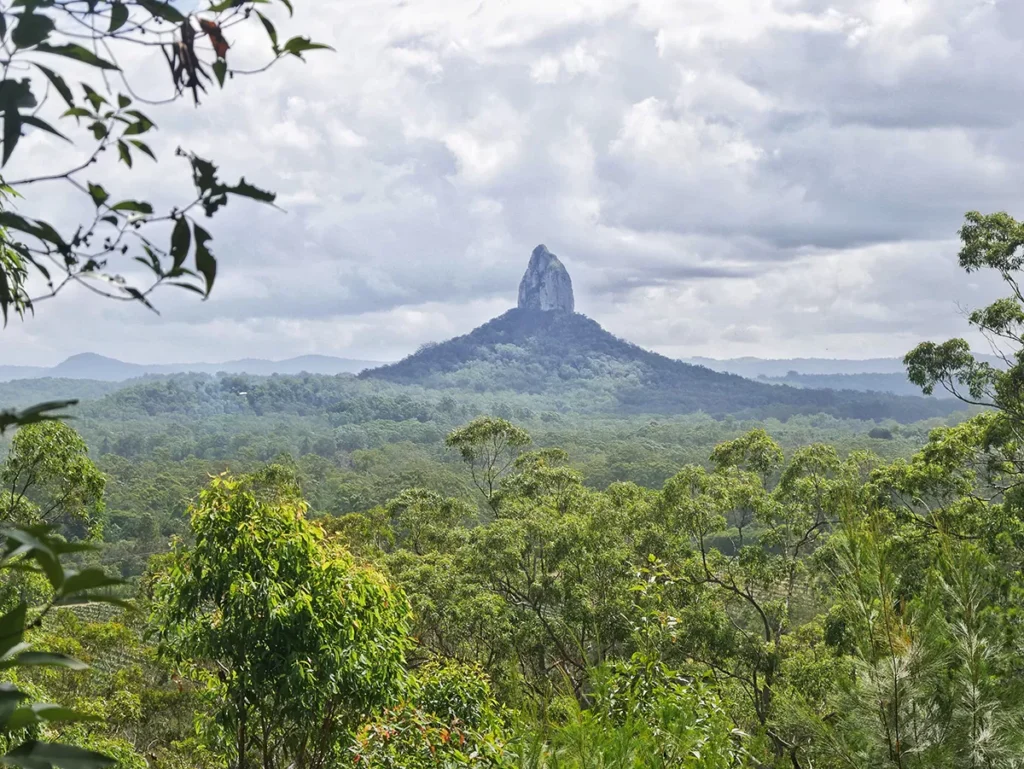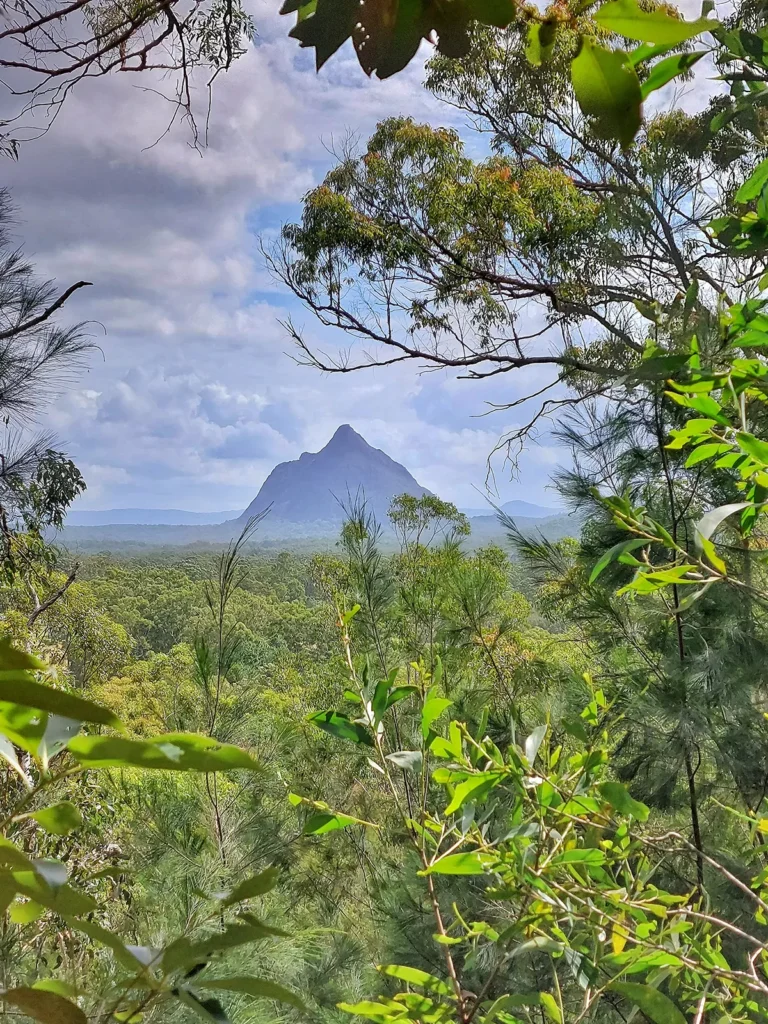 After the Mountain View lookout, we walk back again. This time we took a different route. During the walk, we are also surprised again by a beautiful Kookaburra watching us from a tree.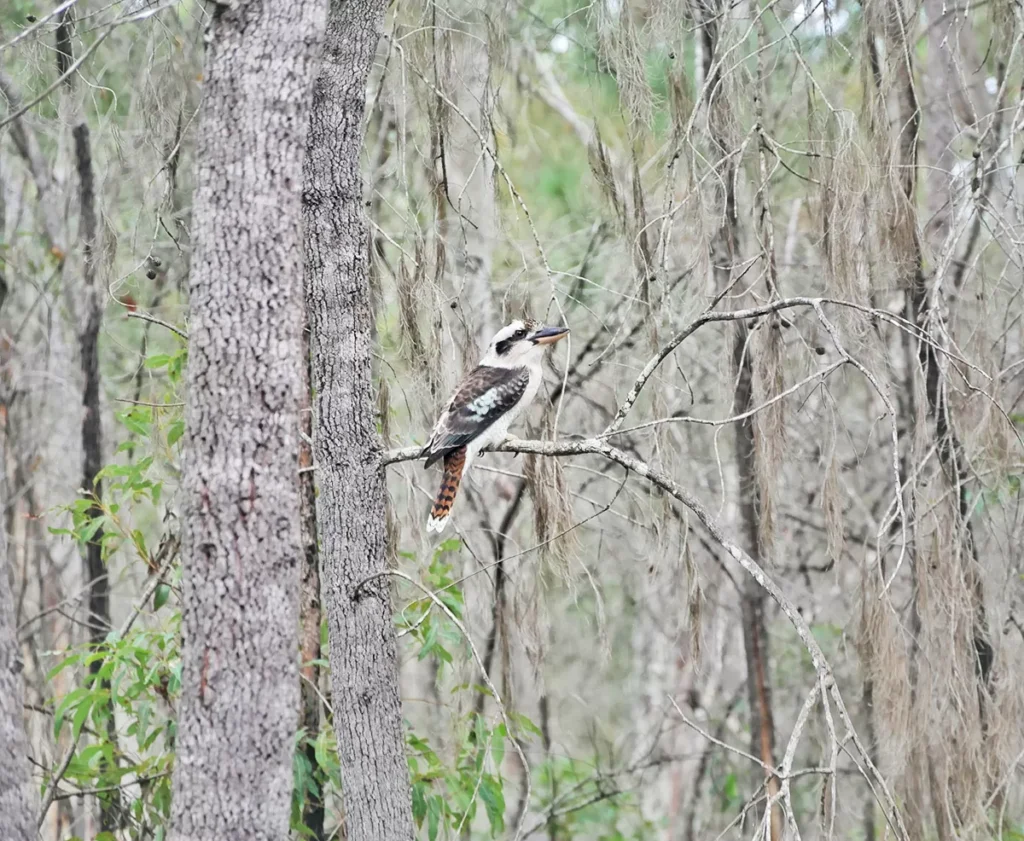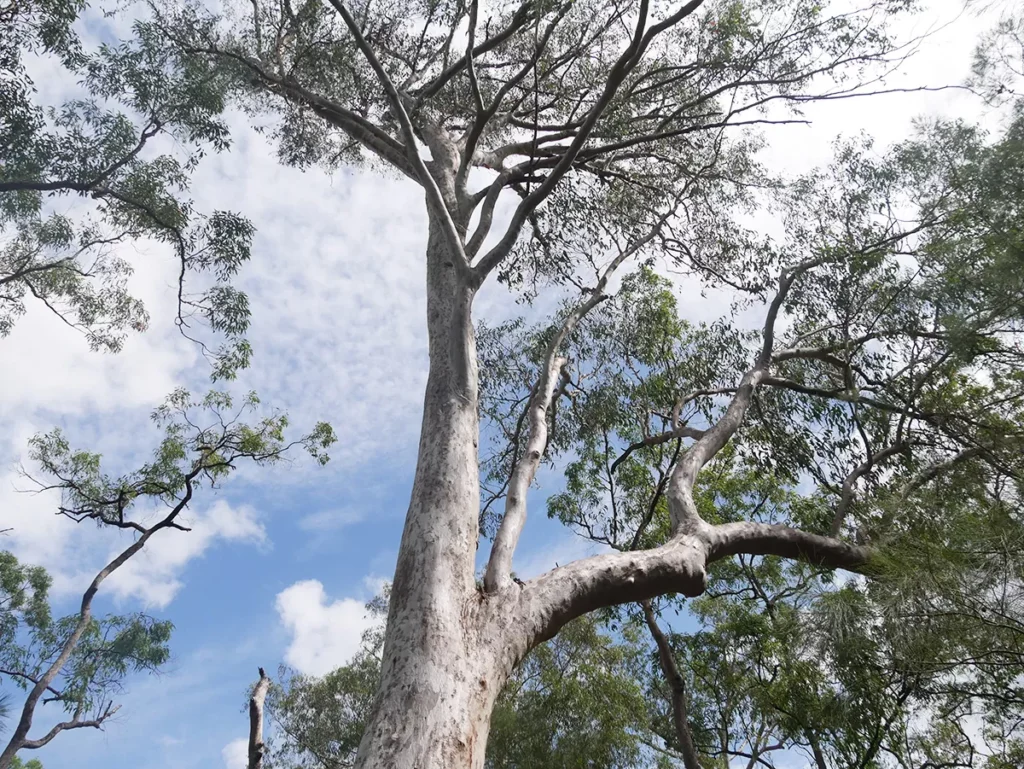 The final kilometres lead us past the beautiful Mount Tibrogargan, which we can admire from different perspectives. What a beautiful setting!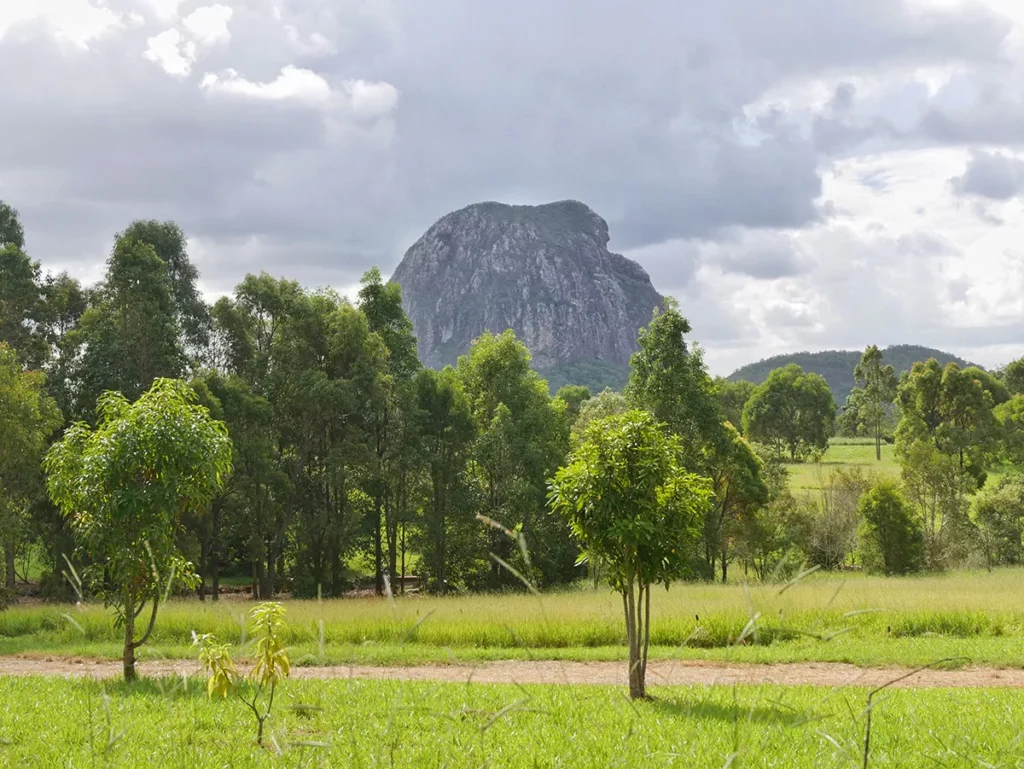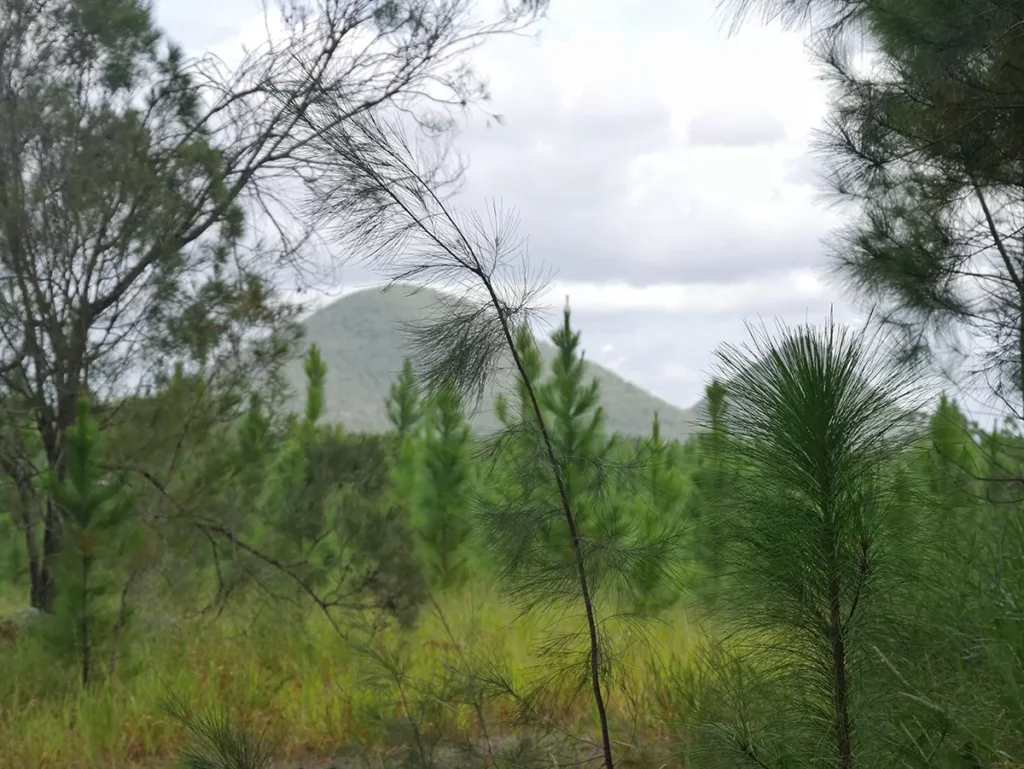 After walking some 18 kilometres, we could feel it in our feet by now. Fortunately, it was only a short walk towards Beerburrum station.
Love for Glass House Mountains
We really enjoyed this beautiful hike at Glass House Mountains. The Glass House Mountains are a beautiful natural area that has a lot to offer hikers and mountain bikers. And it's all just an hour's drive from vibrant Brisbane. We highly recommended this area in Queensland!!
Video
Planning a trip to Brisbane?
Click here for the best hotels, B&B's and apartments in Brisbane.
Click here for the best tours to do in and around Brisbane.