You can easily spend a week in central Sydney alone, and you won't have seen everything. There are so many beautiful sights in Sydney that you will always be short on time. This certainly applies to the Sydney area as well. New South Wales has so many interesting places to visit that your bucket list will soon become quite long. Sea Cliff Bridge, for instance, is a place not to be missed when you are in the Sydney area. We visited this magical spot, which is just an hour's drive from central Sydney, last weekend and are happy to share our experiences with you.
Sea Cliff Bridge
For those unfamiliar with this special place in New South Wales, the Sea Cliff Bridge is a breathtaking coastal route that meanders alongside the Pacific Ocean, linking the villages of Coalcliff and Clifton. During a visit to this impressive bridge, you'll be treated to spectacular views of the water and the towering rugged cliffs below. Especially in clear weather, it's a fantastic place to visit, ideal for capturing stunning photographs
Spectacular views
It takes us an hour to drive from our house to Sea Cliff Bridge. The route to it is already very scenic, and especially when we drive our car across the bridge, we immediately understand why this place attracts so many tourists every year. We park the car on the side to take a pleasant walk across the bridge and enjoy the spectacular views. Accompanied by our dog, Joey, we revel in the rugged ocean, towering cliffs, and the magnificent natural surroundings of the bridge. It's pleasantly crowded but not overly touristy. It's likely to become busier later in the day, so it's wise to go in the morning to beat the crowds.
You can walk a considerable distance across the bridge as a pedestrian. In fact, there's a well-maintained footpath separated from the road, giving you ample time to savor the beautiful views. You won't only encounter tourists; locals who reside nearby also frequent this area.
Bulli Beach
Small-scale and idyllic beaches are never far away in New South Wales. While Sydney's famous beaches like Bondi Beach and Coogee Beach can be quite crowded in good weather, there are plenty of other beautiful beaches to explore outside the city. For instance, after our visit to Sea Cliff Bridge, we continued our journey further south to the charming town of Bulli, where we had the chance to visit the eponymous Bulli Beach.
We had brought a cooler bag filled with sandwiches, cheese, and other goodies, so we quickly settled down on the grass at Bulli Beach. In the distance on the water, we spotted several surfers catching big waves, while a bit further away from us, a large family was celebrating a birthday. On the beach, people were enjoying the beautiful weather. Today was Labour Day, a public holiday, and many Australians headed out to savor the lovely spring weather. Despite being a public holiday, Bulli Beach wasn't overly crowded. That's one of the great things about Australia – with so many beaches and places, there's always room for everyone.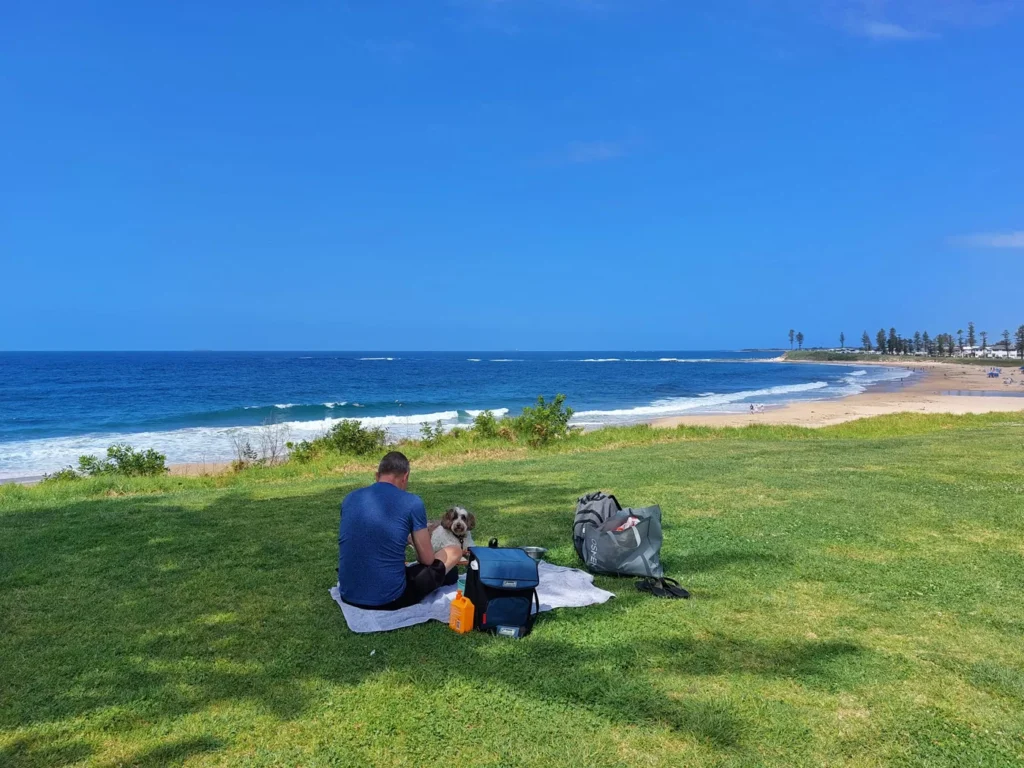 I found Bulli to be a really nice place. I also understand why people prefer to go surfing here instead of at the better-known beaches. There's much more space in the water, allowing you to catch a wave sooner and without disturbing other surfers or swimmers. While we were picnicking, we noticed another house painted in the Mondrian style behind us, a subtle connection to the Netherlands 😉.
Mount Keira Lookout
From Bulli, it's easy to drive to the larger town of Wollongong. However, this time, we deliberately chose not to, as we wanted to explore smaller places. We will certainly visit and explore Wollongong in detail in the future. To be continued.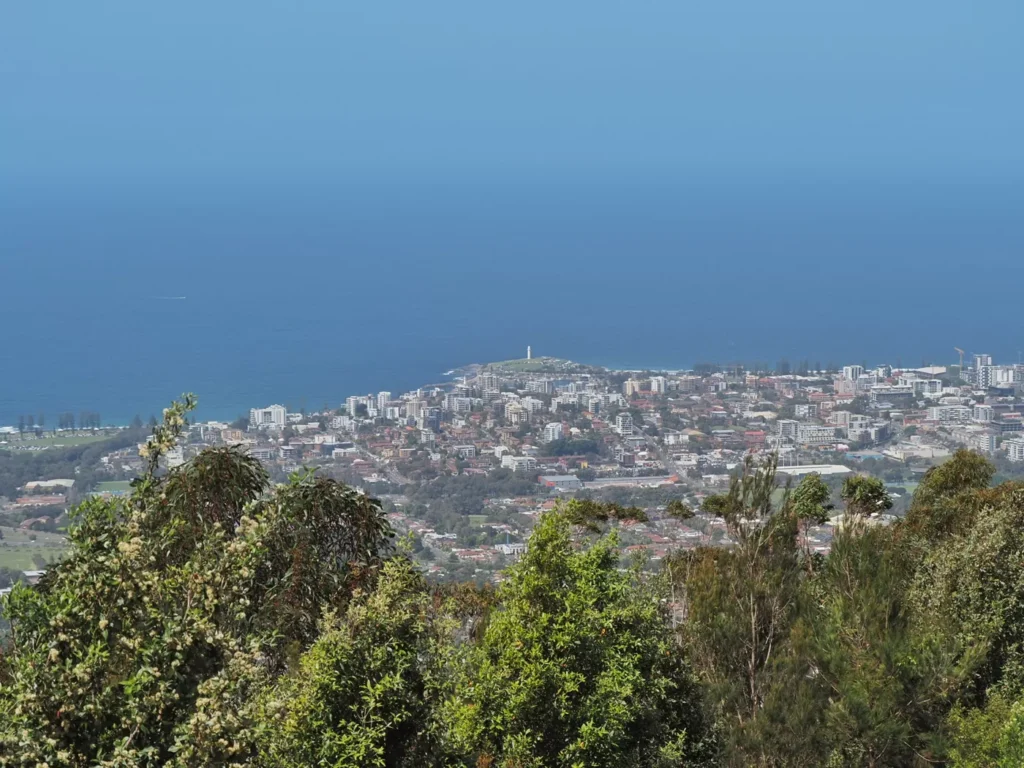 After Bulli Beach, we drove on to Mount Keira Lookout, where we had stunning views of the coastline and the city of Wollongong from the lookout. Besides this lookout, you will also find several beautiful hiking tracks around Mount Keira, such as the Mount Keira Ring track. Rest and nature lovers can also visit the Illawarra Rhododendron and Rainforest Gardens.
We had a wonderful time on this day trip from Sydney. What's great about this area in Australia is that you can enjoy the beauty of the scenery and also relax. The beaches are also exceptionally lovely!
More sights in the area
But there is so much more to explore in the Sydney area. Perhaps the tours and activities below are for you: